What is hippotherapy?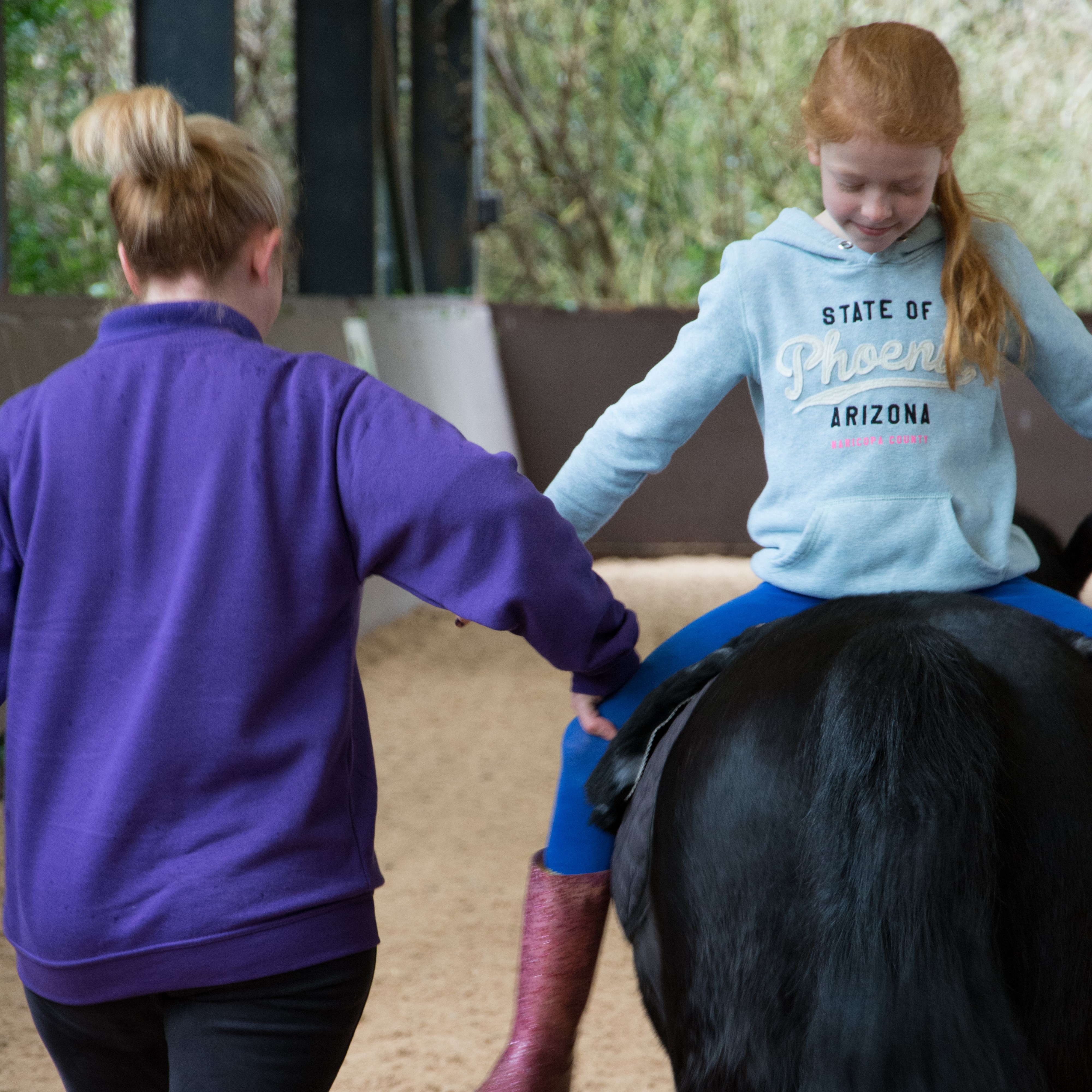 Hippotherapy is a therapeutic intervention that uses the movements of the horse to achieve functional outcomes in individuals. The gait (walking pattern) of a walking horse is a three dimensional movement that translates up through the pelvis of the person who is sat upon it. This three dimensional pattern produces forward/backward tilting, side to side movements and rotational movements of the pelvis. These pelvic movements experienced in the rider are the same movements the pelvis would go through in human walking. Therefore in a half hour hippotherapy session the rider can achieve hundreds of repetitions of the walking pattern in the pelvis without the additional compensatory strategies or physical assistance that may accompany normal walking for that individual.
There are also many other physical benefits to hippotherapy including the warmth and barrel shape of the horses middle helping to improve hip range of movement and stretch tight muscles on the inside of the thighs. Individuals can also help improve core stability and balance through practicing more challenging reaching activities; going through transitions of walk-halt-walk; changing positions from forward facing to side to backward facing; and working through a variety of circles and turns. These all work towards strengthening proximal stabilising muscles and facilitating the anticipatory adjustments in the trunk through continuous feedback from the horse's movement.
As well as all these physical benefits there are many other holistic benefits to hippotherapy. The smell of the horse and the yard, the touch of the mane and coat, the warmth of the horse's body and the sights and sounds of the surroundings all provide intense sensory stimulation. In looking around to where you are going, whilst the horse is continuously moving you up and down, you are challenging both the visual and vestibular systems. From a language development approach large signs with letters and pictures are used as cues around the arena. Riders are encouraged to verbalise the letters while verbal counting cues and 'whoa' and 'go' commands are used to direct the horse's transitions from walk-halt. Makaton is also practiced within the sessions for those using it to communicate.
Find us
We are located at:
Beechley Riding School,
Harthill Rd,
Liverpool,
L18 3HU